Managing orders efficiently is crucial for the success of your business. In this guide, we'll walk you through the various features and functionalities of the Hippoo app to streamline your order fulfillment process. From order details to editing orders and communicating with customers, Hippoo has you covered.
Overview of Orders
Upon accessing the orders list, you'll find a concise summary of each order item, including relevant details such as images, order ID, customer name, shipping and billing methods, and order total. Expand the order to reveal additional information.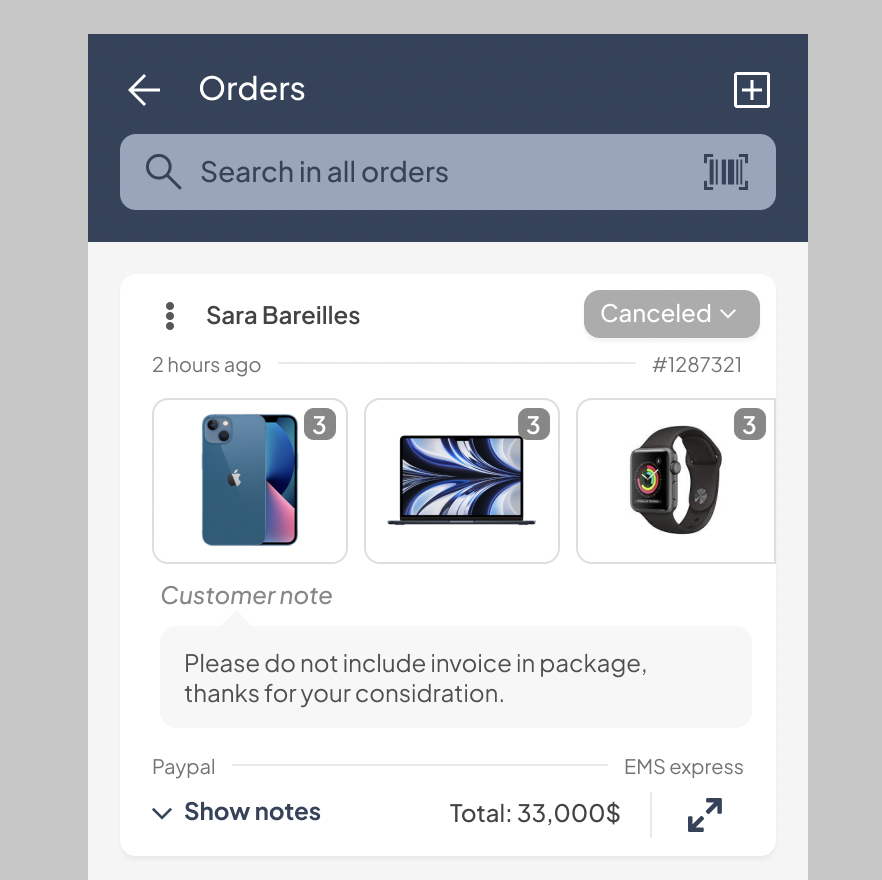 Quick Order Search
Save time by utilizing the search bar at the top to quickly find orders based on customer names, order IDs, phone numbers, or order details.
Efficient Barcode Scanner
Experience the convenience of Hippoo's built-in barcode scanner, allowing you to scan order ID barcodes from invoices or shipments. This feature enables you to instantly locate specific orders.

Tap on the barcode icon on the search bar to enable this functionality: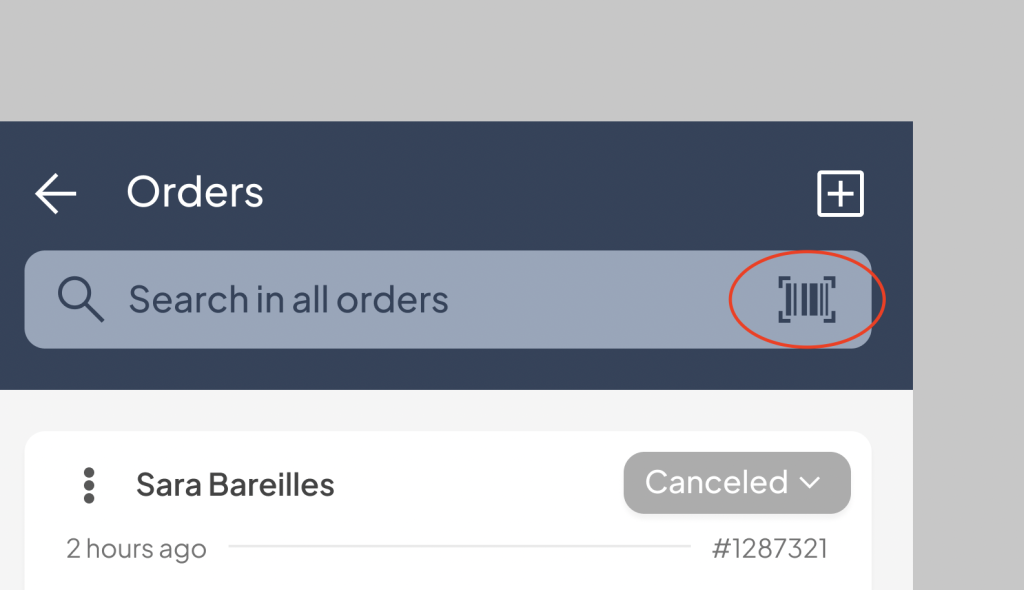 Order Item Management
Easily manage order items by tapping on each product image. The green checkmark signifies that the item has been fulfilled.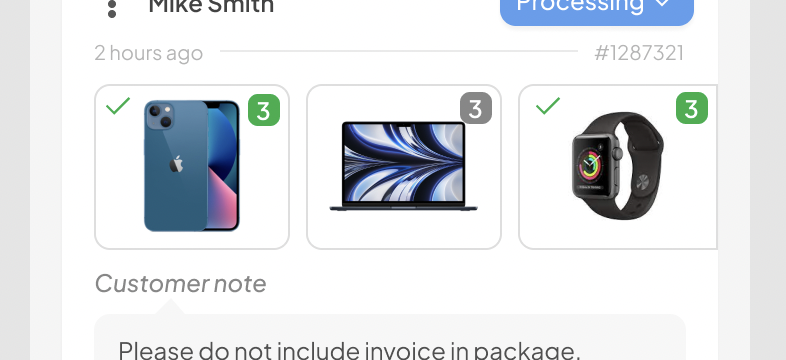 Long-press on an item to expand and view more details or navigate to the product detail page if needed.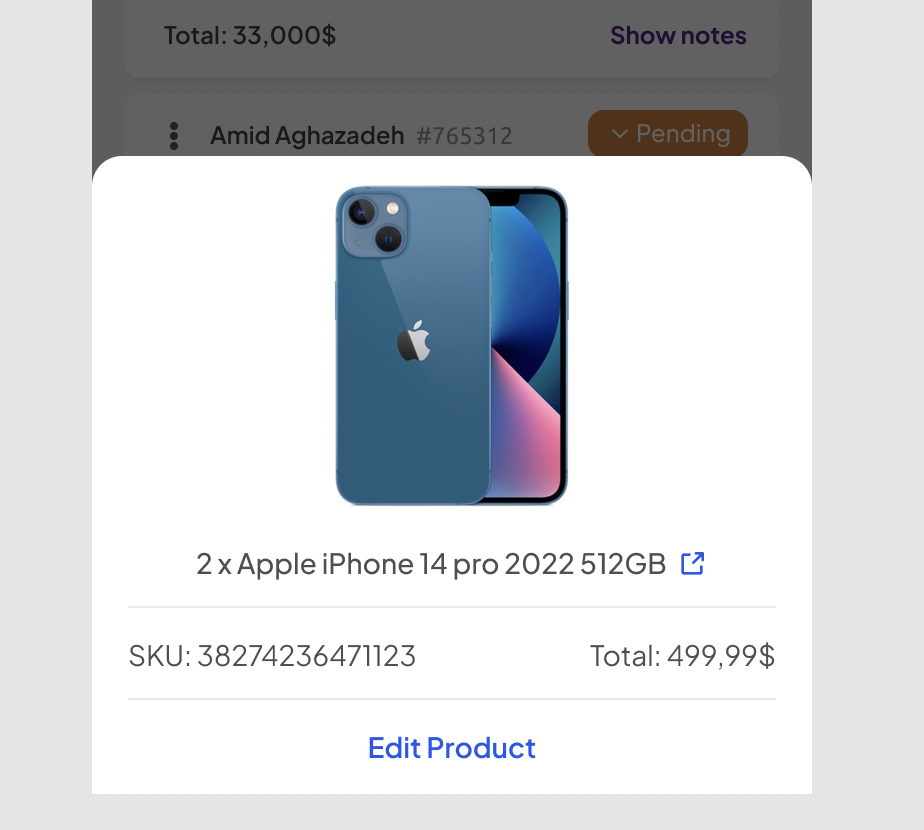 Editing Orders
Should the need arise to modify an order, simply tap the burger menu of the respective order and select "Edit order." This comprehensive editing feature empowers you to make changes such as adding or removing products, adjusting shipping addresses, and selecting payment or shipping methods.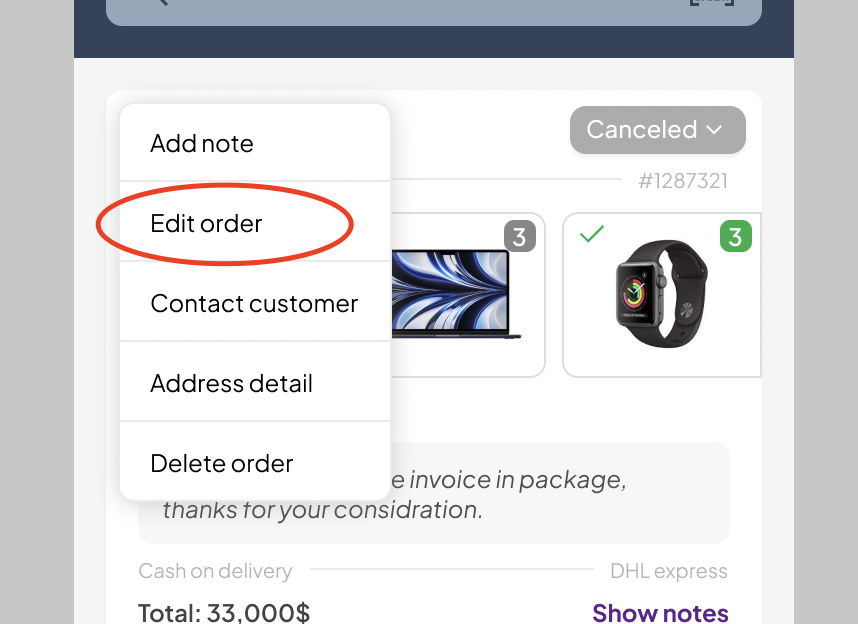 Adding and Viewing Order Notes
Enhance communication and organization by adding notes to orders. Access the burger menu, choose "Add note" to attach a note to an order.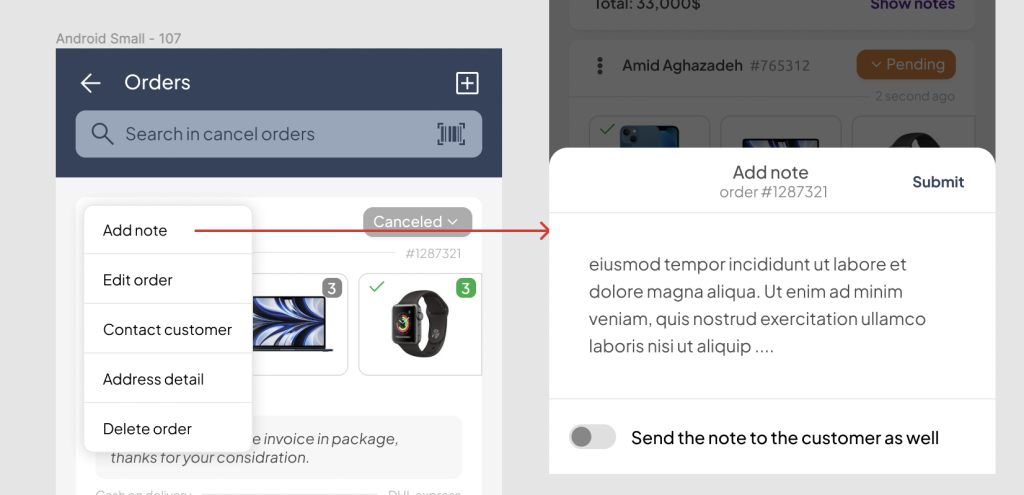 Additionally, select "Show notes" to view all order notes for easy reference.
Changing Order Status:
Effortlessly update the status of an order by tapping the top-right corner of the order card. This feature enables you to keep track of the order's progress.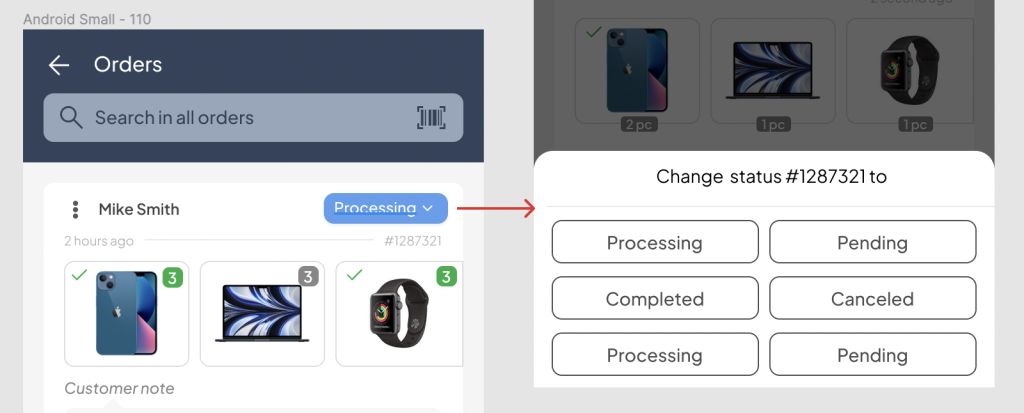 Contacting Customers
Hippoo facilitates direct communication with customers. Access the burger menu of an order, choose "Contact customer," and select the preferred contact method, including phone, WhatsApp, or email.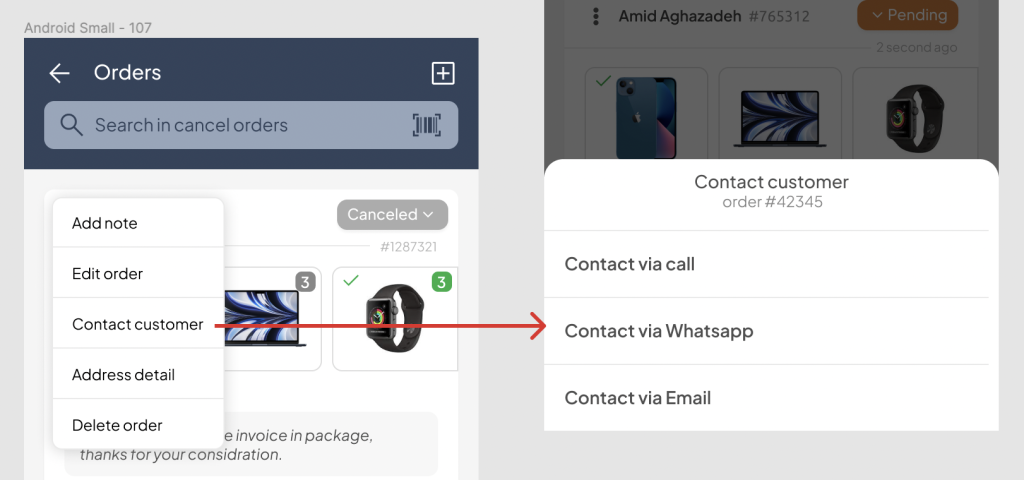 Detailed Order Information
For a comprehensive overview of specific order details such as addresses, email, and phone numbers, open the order menu and select "Order detail."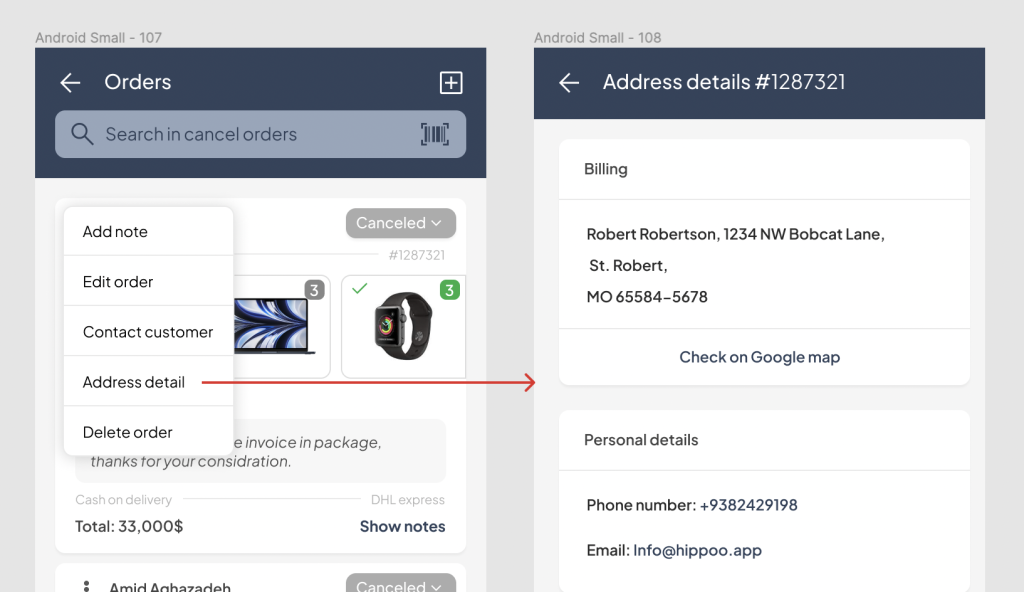 Deleting Orders
When necessary, delete specific orders by accessing the burger menu of the order and tapping "Delete order." Exercise caution, as this action is irreversible.
Customer note
Customer notes are conveniently displayed within the orders, ensuring you don't miss any important information provided by the customer.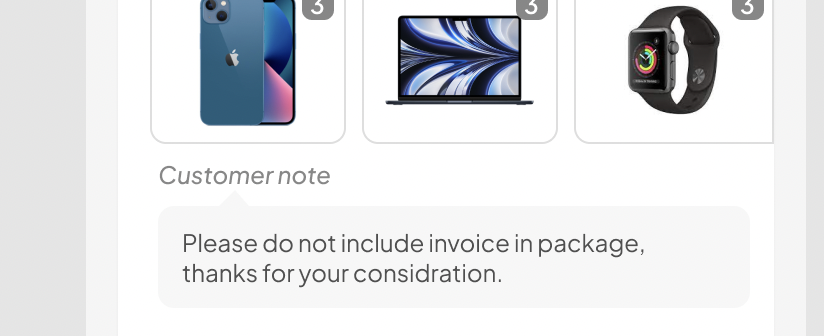 Coupons
If a customer has used a coupon code for the order, it will be displayed in the order card with a coupon icon. Tap on the icon to view more information about the coupon code and make any necessary edits.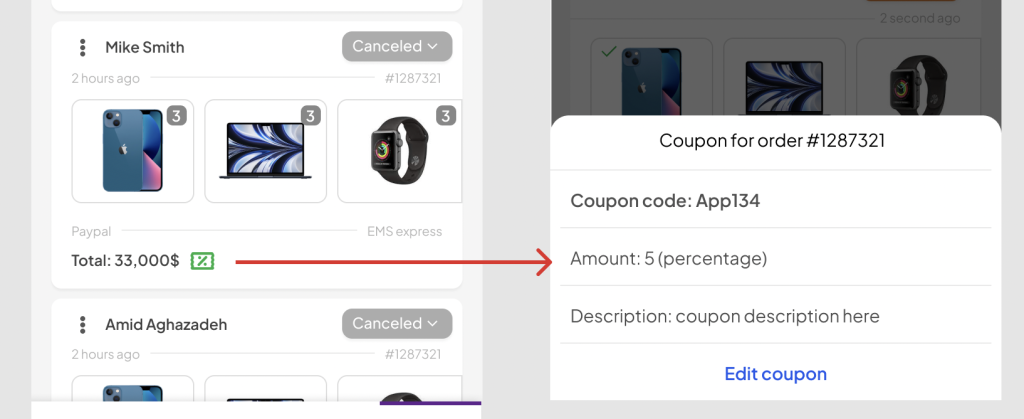 Conclusion
With Hippoo's powerful order management capabilities, you can streamline your fulfillment process, communicate effectively with customers, and maintain a well-organized system. Take advantage of Hippoo's features to enhance your business operations and provide exceptional customer service.